My bio
Hi, my name is Dee, a curvaceous women in my early 30's with 34DD breasts hence the name that's stuck with me - "Doubledee". I am a married housewife by day but in front of a lens or group of guys I show my true colours as a filthy slut.

I am clean shaven for a smooth ride and have a pieced nipple and clitoris hood for that extra mmmmmmmmm and love dressing up in my many sexy outfits especially PVC, and I always wear stockings and CFM heels!

I'm in my element riding cocks and I love heavy cummers, showering my face or sucking to completion then letting it slide down my throat. I love anal sex but better still double penetration so the more guys I take on the better for me yummie !

Just to add to my naughtiness I am very bisexual. I adore licking a sexy woman pussy and bringing her to a shuddering climax, then to lie back and let her lick me to orgasm and squirt all over her face, yea that's right when taken over the edge I squirt baby!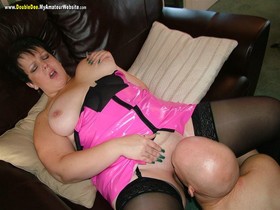 I started amateur modelling some years back , appearing in some top shelf magazines, I was a blonde bitch in those days , but today I'm a dark haired sultry bitch. I started again recently and just love all the attention it brings me from men and women, I usually find my photographers rising to the occasion, I'm more than happy to help de stress them …gulp. I hope to do lots and lots more modelling thanks to appearing here on Tac Amateurs.

I love any emails I get especially from my members, who I love to "look after". and will always reply personally, I would love to hear all your suggestions for sexy shoots and videos I could do for you and any locations that sound sexy